Top CRM Solution Providers
:: BrainSell
:: C2CRM
:: ePartners
:: eSalesTrack
:: Epicor
:: Goldmine
:: Infor
:: Infusion
:: Microsoft Dynamics
:: NetSuite
:: Pivotal
:: PhaseWare
:: RunE2E
:: Salesnet
:: SAP
:: Sage
:: Soffront
:: StayinFront
:: TechExcel
:: Workbooks


:: List of all CRM Vendors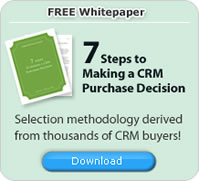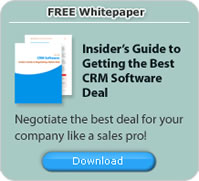 Ownership: Private
Founded: 2002
Headquarters: Halifax, Nova Scotia, Canada
Customers: 3,000 (23,000 Subscribers)
Salesboom Pricing: Solo - $249/year, Team - $200/year (5 users minimum), Professional - $40/month, Enterprise - $75/month


Salesboom CRM Marketing Automation

Marketing Automation:

SalesboomTM Hosted Marketing Automation Software

Marketing Automation and Integrated Sales with Zero Headaches

Salesboom on demand Marketing Software Automation solutions will provide your marketing team with a view into the entire Customer Life Cycle automate and measure marketing campaigns, automate lead qualification and hand off to sales. Support the channel with campaigns created by real time sales and support data. Fully customizable real time analytics give you the insight to understand which marketing campaigns are performing and why. Manage the entire Marketing mix from online to off-line Campaigns and generate actionable Campaign performance metrics.

Business Benefits Increase Qualified Leads
Analyzing and understanding how your campaigns are performing allows you to more accurately define those campaigns that work for you. With Salesboom's marketing software you can track the type of leads each campaign attracts, the types of products advertised, the volume generated by campaigns, etc.

Maximize Campaign Effectiveness Tying every sales dollar back to a campaign source will justify your marketing dollars spent on campaigns. Salesboom's marketing software provides detailed Campaign, Contact and Lead tracking, reporting and analytical tools to give your team precise measurements on all types of campaigns from radio spots to newspaper prints.

Never Lose a Lead
All leads are easily captured from different sources, and routed in real time sales software to specific team members based on your own business rules. You can ensure that all your hard earned leads get timely follow up.

Market Segmentation
You now can systematically segment customers into groups based on customer information and other business rules to deliver unique marketing messages to each group.

Campaign Management & Analysis
Salesboom's Web-based CRM software is a central location for marketers to plan and efficiently manage all their marketing campaigns. A real time sales software view of responses to running campaigns ensures timely response from across your organization. More about web-based Campaign Management.

List Management
Based on key attributes you can group contacts and leads onto lists or groups. Easily export lists in multiple formats to hand off to direct mail houses and partner agencies.

Response Tracking
Connect each lead to the campaign source and track response time to immediately know which sources are generating the most or the least leads or business in dollar values.

E-mail Marketing
Quickly send and track mass personalized e-mails to facilitate customer communication and lead cultivation. Segment lists into group to send personalized marketing messages.

Customized Reporting and Analytics
Use best practice and standard reports or instantly customize your own with point-and-click tools to gain critical insight into your lead generation campaign, win/loss reviews and customer trends.

Try our Hosted Marketing Automation Software- Free for 30 days.

Salesboom.com's CRM software is completely on demand. A free 30-day trial is available with no software to download and no strings attached. Salesboom CRM upgrades are included and are delivered transparently to all users multiple times a year.



Compare Salesboom to:
Maximizer
,
Entellium
,
Oncontact
,
Aplicor
,
Soffront
,
ADAPT Software
,
Avidian
,
Epicor
,
InsideSales.com
,
Kana
,
Microsoft
,
NetSuite
,
Oracle
,
Parature
,
RightNow
,
Sage
,
Salesforce.com
,
SalesLogix
,
Saratoga Systems
,
Siebel
,
SugarCRM
,
Surado
,
ACCPAC
,
ACT!
,
amdocs
,
Appshore
,
Aprimo
,
Ardexus
,
Astea
,
Aurum
,
Chordiant
,
Commence CRM
,
CSG Systems
,
Dendrite
,
eGain
,
Everest
,
Infor
,
JD Edwards
,
LeGrand
,
NetOffice
,
Peoplesoft
,
SalesJunction.com
,
Salesnet
,
Visitar
,
Infusion Software
,
Dataforce CRM
,
BrainSell
,
Zoho
,
LeadMaster
,
Model Metrics
,
PipelineDeals
,
Tour de Force
,
VanillaSoft
,
Balgord Software Solutions
,
Landslide
,
C2CRM
,
CRMG
,
24SevenOffice
,
CNP
,
PhaseWare
,
Enterprise Wizard
,
Revelation
,
Exact Software
,
Majestic
,
Epicor
,
Goldmine
,
Consona CRM
,
TechExcel
,
Commence
,
ePartners
,
Stay-In-Front
,
Pivotal
,
SAP
,
Workbooks
,
RunE2E