Top CRM Solution Providers
:: BrainSell
:: C2CRM
:: ePartners
:: eSalesTrack
:: Epicor
:: Goldmine
:: Infor
:: Infusion
:: Microsoft Dynamics
:: NetSuite
:: Pivotal
:: PhaseWare
:: RunE2E
:: Salesnet
:: SAP
:: Sage
:: Soffront
:: StayinFront
:: TechExcel
:: Workbooks


:: List of all CRM Vendors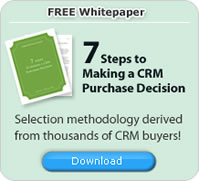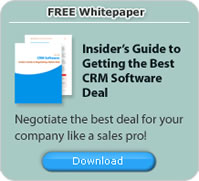 Ownership: Private
Founded: 2002
Headquarters: Halifax, Nova Scotia, Canada
Customers: 3,000 (23,000 Subscribers)
Salesboom Pricing: Solo - $249/year, Team - $200/year (5 users minimum), Professional - $40/month, Enterprise - $75/month


Key Strengths of Salesboom

Integrated Suite of CRM & ERP Solutions
Breadth and Depth of features and functionality
Availability of CRM Appliance for on-premise installation
Great Value & Low TCO




Salesboom Products

Sales Force Automation
Marketing Automation
Document Management
Contract Management
Customer Service & Support
Reporting & Analytics
Enterprise Resource Planning
Email Marketing
Employee Collaboration

About Salesboom

Salesboom has over 23,000 subscribers, 3000 customers in over 148 countries around the world. Salesboom on demand platform drives innovation, enables business change, and enriches customer relations across the enterprise.

Salesboom is a thought leader in CRM and enterprise applications. By building our software completely from the ground up, Salesboom has created what has come to be one of the most powerful and dynamic hosted CRM & ERP solutions available in the market today. Helping our customers succeed is our passion - and it speaks volumes that the core team of executives and engineers that were there for the birth of Salesboom.com, continue to be the heart and soul of the company to this day.
Compare Salesboom to:
Maximizer
,
Entellium
,
Oncontact
,
Aplicor
,
Soffront
,
ADAPT Software
,
Avidian
,
Epicor
,
InsideSales.com
,
Kana
,
Microsoft
,
NetSuite
,
Oracle
,
Parature
,
RightNow
,
Sage
,
Salesforce.com
,
SalesLogix
,
Saratoga Systems
,
Siebel
,
SugarCRM
,
Surado
,
ACCPAC
,
ACT!
,
amdocs
,
Appshore
,
Aprimo
,
Ardexus
,
Astea
,
Aurum
,
Chordiant
,
Commence CRM
,
CSG Systems
,
Dendrite
,
eGain
,
Everest
,
Infor
,
JD Edwards
,
LeGrand
,
NetOffice
,
Peoplesoft
,
SalesJunction.com
,
Salesnet
,
Visitar
,
Infusion Software
,
Dataforce CRM
,
BrainSell
,
Zoho
,
LeadMaster
,
Model Metrics
,
PipelineDeals
,
Tour de Force
,
VanillaSoft
,
Balgord Software Solutions
,
Landslide
,
C2CRM
,
CRMG
,
24SevenOffice
,
CNP
,
PhaseWare
,
Enterprise Wizard
,
Revelation
,
Exact Software
,
Majestic
,
Epicor
,
Goldmine
,
Consona CRM
,
TechExcel
,
Commence
,
ePartners
,
Stay-In-Front
,
Pivotal
,
SAP
,
Workbooks
,
RunE2E