DEALS OVERVIEW
What is a deal?
DEALS
Pipeline is built around deals. A deal quite simply is a business opportunity. Deals usually but not always, are a company name or a company name with a description of the business opportunity. (Example – "ABC Carpet & Home", or "ABC Carpet & Home – Advertising Deal")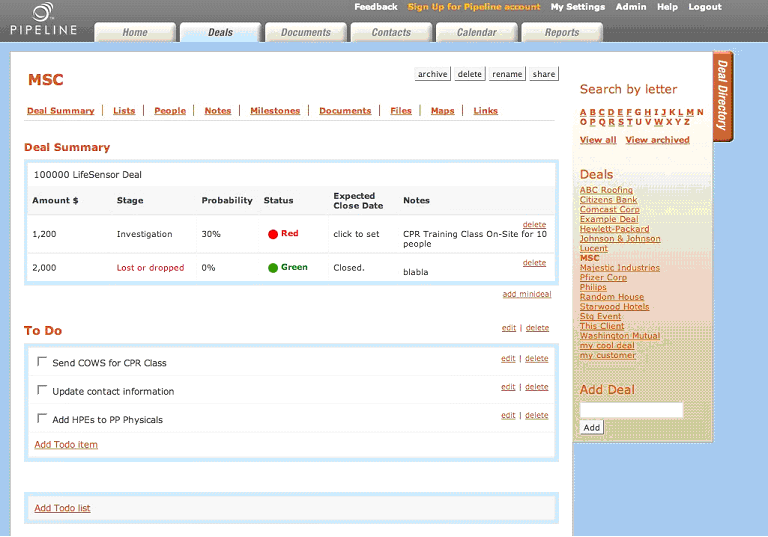 What are the benefits of using deals?
Deals allow you to store everything you need to get the deal closed on one page. You can easily store all of the following on a deal page:
* Deal Summary – a simple text summary, a dollar amount ($), sales stage and a probability
* Lists – simple to-do lists; you can have multiple to-do lists per deal. You can re-order to-do lists simply by dragging and dropping the to-do items.
* People – add people from your existing contact database, or a new person
* Milestones – add special milestones and dates to the deal; milestones are visible on your deals page and in your calendar and weekly agenda.
* Maps – add simple maps and notes; you can also easily obtain driving directions
* Files – add file attachments, so that you will always have a backup or the latest documents you need available when you need it.
* Documents - documents are used to store long notes related to your deal
* Links – add simple links for competitors, or your prospect's site and competitors
How many deals can I have?
There are no limits on the number of deals you can manage in PipelineDeals.
How do I delete a deal?
Simply press the delete button on the upper right of the deals page opposite the deal name. Please note that only deal owners can delete deals.
How do I rename a deal?
Simply press the rename button on the upper right of the deals page opposite the deal name. Please note that only deal owners can rename deals.
Can other users see my deal information?
The deal summary information – description, $, status, stage and deal milestones are shared with manager and executive users in your company. All other information (e.g. your contacts, to-do items, documents, files, etc.) cannot be seen by other users but may be seen by managers and executives depending on how your account is configured.
None of your information is available to the general public.
How do I add people to a deal?
Simply click on the Add person link. Enter their name, title, phone, company and email address.
What is a milestone?
A milestone is a major event (due on a specific date) associated with a deal. You can use milestones to plan and set goals to get your deals closed. For example, you can set a milestone for when you expect to have the contract signed, or economics worked out.
How does to-do lists work?
Lists are great organizing tools to keep track of your deals. Create simple to-do lists. You can easily drag and drop to-dos to reorganize and prioritize your list. You can have any number of different lists for a deal.
What is a reminder?
Reminders are simple alarms or messages that remind you to do something. Reminders are sent the email address you specify as well as via SMS message to your mobile phone. SMS messaging is not available for the beta program. Reminders are associated with your contacts.
How do file attachments work?
You can simply upload file attachments into Pipeline. Just click "add file" on the deals page, browse your computer for your files and click upload.
What are notes?
Notes are like powerful ways to document your sales process. You can quickly enter a note title and text for something you want to remember. Optionally, you could also add a contact and associate the note to both the deal and the contact. The note will automatically be stored in the contact's profile and for the deal. For longer notes, use the documents feature.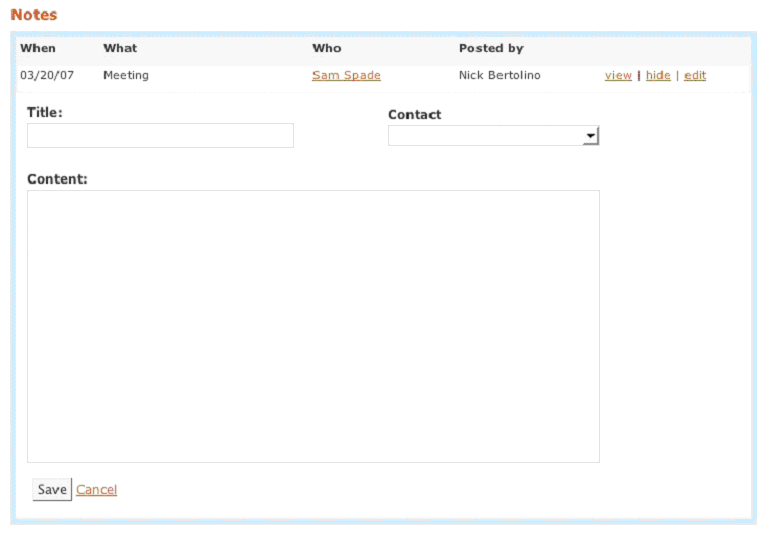 How do maps work?
You can create a map for an important address on a deal. Simple click on the Add Map link and add a map title, an address, and a short note (optional). You can add multiple maps to the same deal.
MINI-DEALS
What is a Mini-Deal?
How do I handle additional business opportunities for an existing business relationship or account in Pipeline? The answer to this question is the mini-deal.
Mini-deals are simply a way to add additional business opportunities right onto an existing deal page on your deal page.
What are the benefits of a mini-deal?
* It is easier to track all the business with a specific customer or prospect on one of your deal notebook pages.
* So, you at a glance you can see the overall value and potential of sales associated with one of your accounts
* You don't have to create a deal for every business opportunity and copy redundant information for each deal (e.g. contacts)
* Nice historical record of business opportunities on an existing account for new sales agents taking over a new relationship
Are Mini-Deals useful for all businesses?
Yes, they can be, but mini-deals work especially well for the following business situations:
1. You have an existing relationship and plan to sell more products and services to your customer
2. You are a manufacturer that sells multiple orders and/ or replenishment types of orders to your prospects and customers
Can I still create a new deal for an new business opportunity for an existing business relationship?
Yes, you don't have to use mini-deals. There may be situations where you have a large opportunity that you want to manage and track with a new deal notebook page.
How does Mini-Deals impact Pipeline reporting?
All of your Mini-deals will display in your Pipeline reports. Graphs and charts will also display all of your deals and mini-deals.
DEAL ARCHIVING
What is deal archiving?
For any business, a sales leads and deals generally go through various stages of activity. Sometimes a deal is very active, other times it goes dormant for months, then springs back to life, other times it just dies. That is the nature of the selling in any business.
Deal archiving allows you to make a deal inactive in your deal directory. The deal will no longer show up in your Pipeline reports as well. Note that only deal owners can archive a deal.
What are the benefits of archiving a deal?
Archived deals allow you to focus on your most active deals. They also allow you bring the deal back to life at a later point.
What can I do with an archived deal?
Archived deals can only be viewed and not edited.
How do I archive a Deal?
Just click on the deal archive button at the top of the deal page on the upper right. You can then view a simple list of archived deals in the Deal Directory.
Can I de-archive a deal?
Yes, absolutely. Just click on the de-archive deal button on the deal page.
DEAL SHARING
What is deal sharing?
Deal sharing is simply the ability to share and collaborate on a deal with one of your co-workers or colleagues.
What are the benefits of deal sharing?
Many deals are not just worked by one person. A team of people works them across departments collaborating to push the deal across the finish line and get the sale.
Deal sharing allows you to share all the deal information - deal summary, your to-do lists, documents, files, links, people and notes for a specific deal and truly collaborate with another co-worker to improve your sales productivity and get the sale closed faster.
Deal sharing also allows you to easily get a new person up to speed quickly on an account or deal. You can easily allow your co-worker to review your historical documents created - (e.g. sales pitches, sales proposals), and files uploaded in Pipeline using deal sharing.
How does it work?
Simply, click on the share deal button at the top of a deal in the deal notebook. Enter a user's email address. An email will be sent letting the user know that you have shared a deal with them. They just login to Pipeline and can see and edit the deal information. A shared deal is denoted with a small yellow flag in your deal notebook and deal directory.
Can a user delete or archive a deal?
No only the deal owner can delete and archive the deal. The person who you shared the deal with (the sharee) can see and edit all information.
What information is shared?
The deal summary information, your to-do lists, documents, files, links, people and notes are shared. However, note that a contact is not entered into the sharee's contact management system per say with your personal notes and reminders for that person. Only the person's contact info on the deal notebook is shared.
Can I share a deal with a non-Pipeline user?
Yes, but the user will need to sign-up for a Pipeline account in order to review and access the shared deal.
Do shared deals show up in the Pipeline Reports?
Yes, if your deal is shared with a co-worker, it will show up in their Pipeline Report and be noted with the small yellow flag.
Can I un-share a deal?
Yes, un-sharing a deal will remove the shared deal from the deal directory of the sharee.
DOCUMENTS
What is a document?
Documents are simple text based documents.
What are the benefits of using the documents feature?
You can easily and quickly capture notes, create strategies for negotiation, brainstorm deal terms, or anything you like, all available anywhere on the web. You don't need to launch a separate word processing program.
How do I format a document?
Documents can be simply formatted using simple formatting codes. Just create a document, and click the "Show formatting rules" to review the simple formatting available for documents.
Can I send a document in email?
Yes, just click the "send in email" link.
Can I export a document from Pipeline?
Yes, documents can be exported easily to MS Word or CSV formats. This feature is not available for the beta program.
CONTACTS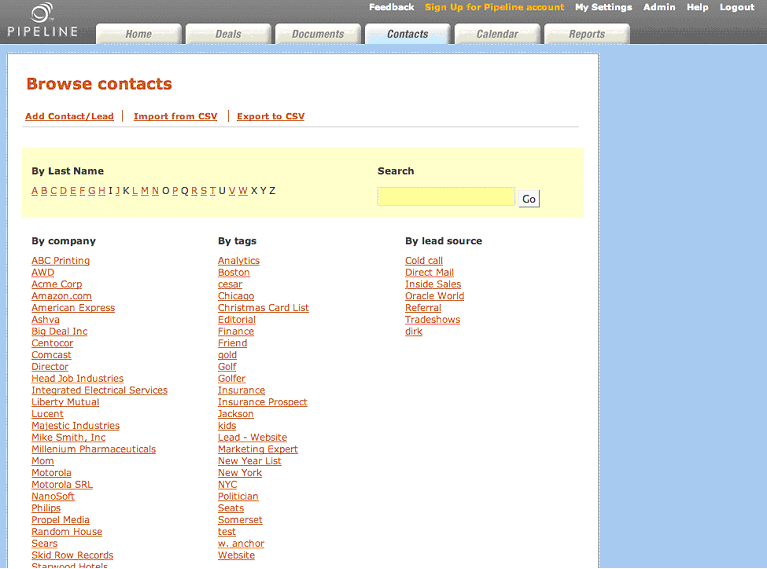 What is the contacts feature?
The contacts feature is a powerful database for all of your contacts supporting your deals. You can store basic contact information such as addresses, and phone numbers but also notes, reminders, maps, and see related people.
What are the benefits of using contacts?
The contacts features allow you to quickly and easily find contact information, store notes; add reminders for all of your contacts. In addition, you can leverage the power of your network using tagging. See tags questions below.
What are tags?
Tags are a powerful and simple way to classify your contacts. For example, let's say you wanted to classify Bob Smith as a "Golfer" or as a "Marketing Expert", simply add the tags to the person on the person profile page. Think of tags as a way to group your contacts together.
You can add those same tags to some of your other contacts. So, if you want to produce a list of all "Golfers", simply click on the tag, "Golfer" on the contacts page.
How can I search for specific people?
Simple type a few letters into the search box or just click on the letter on the right to see all people whose last name starts with a specific letter. Or you can click on the alphabet directory to find the contact by last name.
Can I import my contacts database into Pipeline?
Yes, you can import a simple CSV file from outlook, or another contact management system into Pipeline. However, there are some limitations, as Pipeline may not be able to store all of you old fields of data.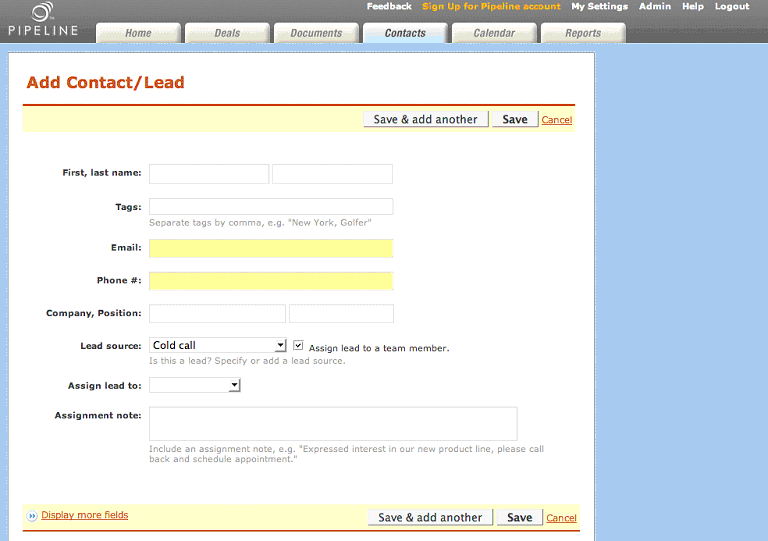 CALENDAR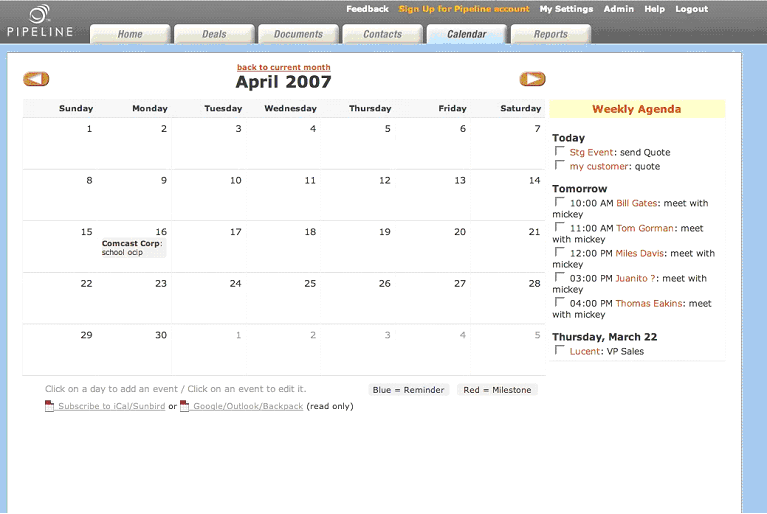 What is the calendar?
The calendar allows you to see both reminders and milestones for all of your deals in one central place. Of course, you can also see reminders and milestones within Deals and People.
How do I add a reminder to milestone to the calendar?
You can add reminders and milestone either by selecting the appropriate link in the calendar, or you can add reminders from the contacts profile page or you can add milestones from the deals page.
How do I edit milestones and reminders?
Currently, you can only edit milestones and reminders from the deals and contacts profiles pages directly, as well as from the calendar.
Does the calendar sync with ical?
Yes, in a read only mode. In other words, your calendar and appointments will display in an ical supported calendar, such as Apple's ical but cannot be edited.
Does the calendar sync with Microsoft Outlook or PDAs/Smartphones?
Not currently.
PIPELINE REPORTS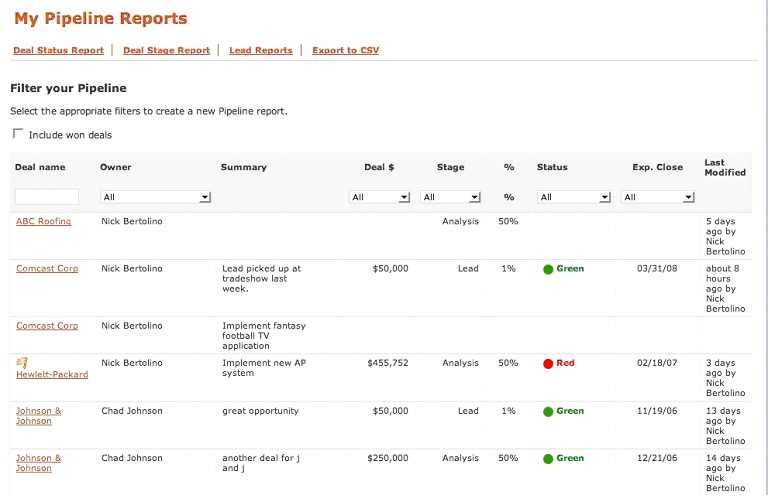 What reports are available in Pipeline?
Pipeline offers simple and powerful reports to manage and see your deals.
* My Pipeline – is a simple and quick way to review all of your deal summary, and status
* Deal Status Report – Provides a pie chart showing your deals and their current status, as well as the Top 5 Deals for each major status – red, yellow, or green
* Deal Stage Report – Provides a pie chart showing your deals and their current deal stage, as well as the Top 5 Deals for each major deal stage. Note that the Signed and Lost stages are not shown on the Top 5 chart.
* Leads Report
The My Pipeline Report
You can slice and dice your sales pipeline data using the my pipeline report. We added filtering capabilities for the following fields:
* Deal Owner
* Deal Size
* Deal Stage
* Deal Status
* Expected Close Date
Which users should use the pipeline reports?
The pipeline reports are designed for sales professionals at all levels: sales agents, sales managers and sales executives. Sales agents can use the new filtering tools to better manage and track their sales deals. Of course, sales agents can update their entire sales pipeline from this one simple screen, as PipelineDeals reports are live and interactive.
Managers and executives can use the features to do simple analysis and hold their sales teams accountable for closing business. In addition, managers and executives can also re-assign deals among their team members. See more below on Deal Re-Assignment.
Who owns which deals? And how many $ are in their sales pipeline?
Simply select the deal owner from the filter and you will get a list of sales deals associated with the specific owner. We also total their sales pipeline $ so you can see those $ against your full sales pipeline.
Which deals are closing soon? Which are past due and need attention?
We provided easy filtering for deals closing in the next 7 days, next 30 days, next 60 days, and next 90 days and beyond. Most importantly, you can easily pull up past due deals. Past due deals, are those deals that have crossed their expected close dates that someone should be asking questions about.
Which deals are my largest in terms of dollars?
We have the done work for you here. Just select large, medium or small from the filter and we will provide a list of your largest, smallest or medium-sized deals. This selection is also context specific to the deal owner.
Which deals in my pipeline are green, red or yellow status?
Easily produce a list of deals that are in trouble or progressing forward. Of course, you can combine this filter with any other for powerful query ability. For example, which deals are green and closing soon? Which deals are red or green by owner?
Which deals are in each of my specific sales stages?
Just select your sales stage - for example, lead, proposal, contract or your custom sales stages to easily produce a list of deals in each stage. Again, you can combine any of the filters for powerful queries such as which deals are in my largest in the lead or proposal stage? Those deals may warrant special attention.
How do I export my deals?
Simply select the filters to produce a sales pipeline report that you want, and click Export to CSV, and you will receive your sales pipeline in CSV format for importing into any spreadsheet program.
The Leads Report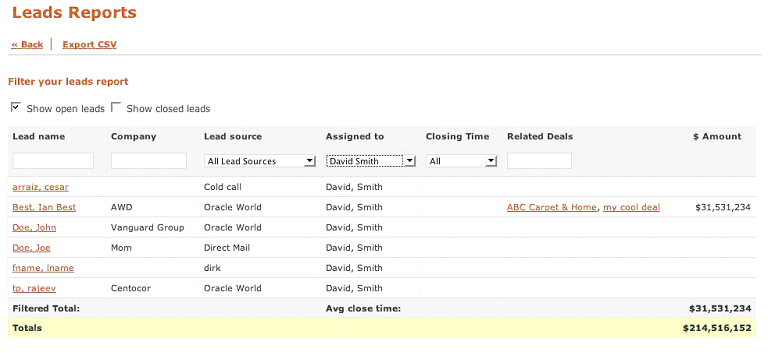 The new leads report includes some of the same powerful filtering capabilities as the new pipeline reports launched recently as well as increased speed and performance improvements.
This report will provide part of the foundation for our future vision of being able to handle leads directly form your website, and bulk uploads via files to provide end to end visibility into your sale pipeline and process.
How much business was closed with a specific company or contact?
Simply type a few letters into the name or company box and you will be able to quickly find your contact or company and how much business has been closed.
Which lead sources generate the most revenue?
All contacts in PipelineDeals can be entered with an associated lead source, which can be customized for your business. Contacts are treated essentially as leads as long as you have an associated lead source.
Lead sources allow you to track which marketing programs are most effective in driving your business. A lead source could be your website, a tradeshow, a referral, an existing business relationship, direct mail campaign, cold calling or any means by which you generate and prospect for business.
The new leads report allows you to find out how much business was closed by each of your lead sources or how much business is in the pipeline from a specific lead source.
How long does it take to close a lead?
Do you know how long your sales process takes from end to end? The new leads report answers this question quickly. Simply use the average closing time drop down to filter your closed leads, or select the closed leads check box. We then calculate how long the lead took to convert into a signed deal and also provide a simple average closing time.
So you can find out how long leads from specific lead sources are taking to close, or from specific companies. Of course, any of the filters can be used in combinations, so you can also find out which sales agents are most effective at selling by reviewing how long it a specific deal owner to close business.
How can I find all open leads?
The leads report allows you see both open leads (leads that have not been converted to signed business) as well as closed leads. Simply use the check box to select which leads you would like to filter and display.
Currently, you cannot edit the leads or re-assign them with this report. This new leads report is mainly about closed leads and revenue associated with lead sources.
We will be creating a new leads report in the future in conjunction with bulk importing abilities that will allow manager's and executives to assign and re-assign leads. This report will focus more on open leads and aging.
DEAL RE-ASSIGNMENT
Pipeline reports are even more powerful to use to balance your team's workload by using the deal re-assignment feature. You can simply change the deal owner using the edit button from the new pipeline reports.
The deal will now appear in the new owner's deal directory and not in the old owner's deal directory. This is highly useful for managers and executives to balance out their sales workload in the most efficient manner. It is also very helpful in transitions for new sale professionals onto the team.
MY SETTINGS
How do I change my password or profile settings?
Just go to My Settings to maintain your profile.
How do I add my mobile number for reminders and milestones?
Simply go to My Setting to turn on SMS reminders and add your cell phone #.
ADMIN TOOL
How do I setup users for Pipeline?
Add a user's first and last name, email address, and a role to pipeline – see roles below. Users will automatically get an email invitation that will allow them to create a user name and password for Pipeline.
What are user roles and how do they work?
User roles are used to define and manage data visibility to deals. Roles are defined as follows:
* Basic – A basic user can see only their own deal summaries.
* Manager – A manager user role can see their own deal summaries + the deal summaries of all of their team members; For example, if John Smith is the Eastern Regional Manager, with 5 sales agents, John Smith will be able to see all of his team's deal summaries.
* Executive – An executive user role can see their own deal summaries + all users for the company.
How do I setup sales teams?
To create a sales team (or a relationship between a manager role and a basic role), simply create a user with a manager role, create additional users, and drag them onto the box labeled: "Drag users from below onto this space to assign them to Manager's team."
Can I customize Pipeline fields?
Yes, you can customize the sales stage field and probability fields in pipeline. This allows you to define a very specific sales stage to support your existing sales process and organization. You can always use the default sales stage process and probabilities.
You can also have 3 custom fields within the Contacts application.
Compare PipelineDeals to:
Maximizer
,
Entellium
,
Oncontact
,
Aplicor
,
Soffront
,
ADAPT Software
,
Avidian
,
Epicor
,
InsideSales.com
,
Kana
,
Microsoft
,
NetSuite
,
Oracle
,
Parature
,
RightNow
,
Sage
,
Salesboom
,
Salesforce.com
,
SalesLogix
,
Saratoga Systems
,
Siebel
,
SugarCRM
,
Surado
,
ACCPAC
,
ACT!
,
amdocs
,
Appshore
,
Aprimo
,
Ardexus
,
Astea
,
Aurum
,
Chordiant
,
Commence CRM
,
CSG Systems
,
Dendrite
,
eGain
,
Everest
,
Infor
,
JD Edwards
,
LeGrand
,
NetOffice
,
Peoplesoft
,
SalesJunction.com
,
Salesnet
,
Visitar
,
Infusion Software
,
Dataforce CRM
,
BrainSell
,
Zoho
,
LeadMaster
,
Model Metrics
,
Tour de Force
,
VanillaSoft
,
Balgord Software Solutions
,
Landslide
,
C2CRM
,
CRMG
,
24SevenOffice
,
CNP
,
PhaseWare
,
Enterprise Wizard
,
Revelation
,
Exact Software
,
Majestic
,
Epicor
,
Goldmine
,
Consona CRM
,
TechExcel
,
Commence
,
ePartners
,
Stay-In-Front
,
Pivotal
,
SAP
,
Workbooks
,
RunE2E