StayinFront software solutions help companies more effectively plan, execute and measure customer relationship management (CRM) strategies. StayinFront's extensive industry experience, advanced technology and superior service provide exact-fit solutions for a variety of field force, sales force and CRM needs.
The latest version of StayinFront's flagship product, StayinFront CRM 11 provides advanced analytic capabilities that help offer valuable insight into customer data as well as enable users to take action and measure results. Other key advantages include ease of use, system flexibility and seamless integration into existing back-end systems.
StayinFront CRM 11 provides a rich set of features for exploring, formatting and calculating data. It empowers users to access their own business intelligence information across CRM data, eliminating the need for high-end technical expertise. The dynamic and flexible nature of StayinFront CRM 11 is uniquely suited to dealing with changing requirements and evolving data.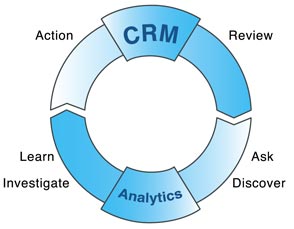 StayinFront CRM 11 closes the gap between analysis and action, enabling a continuous cycle of discovery, investigation, action and review
Benefits of StayinFront CRM 11
Offers powerful data gathering and analysis
Guided analytics to help identify critical business challenges
Advanced multi-stage workflow
Low cost business intelligence
Key Features
Analytics is an integral part of StayinFront CRM 11. Data analysis is seamlessly integrated and available within the CRM application, enabling users to analyze any set of data in the CRM system. Analysis result-sets can then be used to drive CRM functionality.
Custom Dashboards
Dashboards in StayinFront CRM 11 can combine navigation elements, such as calendar summaries and tasks lists, with informational elements like messages. Analytics views can be embedded and used interactively inside the dashboard alongside these elements.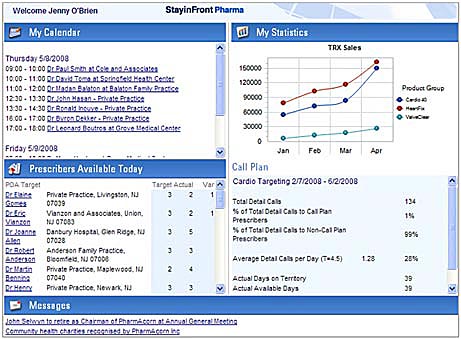 Dashboard with embedded Analytics
Views
The StayinFront CRM 11 user interface is oriented around user-configurable 'views' that provide access to areas of the CRM system. Users can organize their 'view bar' around common sets of tasks. Views are accessible through shortcuts on the view bar.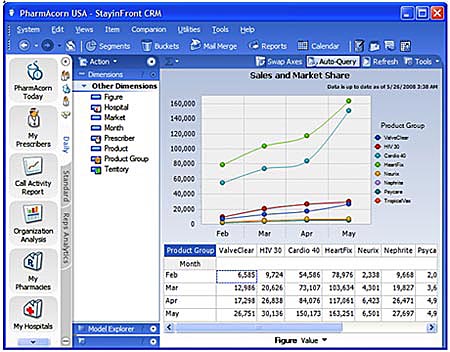 The view bar alongside a StayinFront Analytics view
Workflow
Exceptions identified in StayinFront CRM can be used to start workflows via hyperlinks. For example, an Analytics view could highlight a customer whose activity is in decline. A click of a hyperlink will start a multi-stage workflow process designed to reverse the customer's decline.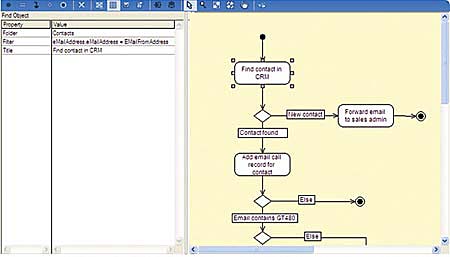 Compare Stay-In-Front to:
Maximizer
,
Entellium
,
Oncontact
,
Aplicor
,
Soffront
,
ADAPT Software
,
Avidian
,
Epicor
,
InsideSales.com
,
Kana
,
Microsoft
,
NetSuite
,
Oracle
,
Parature
,
RightNow
,
Sage
,
Salesboom
,
Salesforce.com
,
SalesLogix
,
Saratoga Systems
,
Siebel
,
SugarCRM
,
Surado
,
ACCPAC
,
ACT!
,
amdocs
,
Appshore
,
Aprimo
,
Ardexus
,
Astea
,
Aurum
,
Chordiant
,
Commence CRM
,
CSG Systems
,
Dendrite
,
eGain
,
Everest
,
Infor
,
JD Edwards
,
LeGrand
,
NetOffice
,
Peoplesoft
,
SalesJunction.com
,
Salesnet
,
Visitar
,
Infusion Software
,
Dataforce CRM
,
BrainSell
,
Zoho
,
LeadMaster
,
Model Metrics
,
PipelineDeals
,
Tour de Force
,
VanillaSoft
,
Balgord Software Solutions
,
Landslide
,
C2CRM
,
CRMG
,
24SevenOffice
,
CNP
,
PhaseWare
,
Enterprise Wizard
,
Revelation
,
Exact Software
,
Majestic
,
Epicor
,
Goldmine
,
Consona CRM
,
TechExcel
,
Commence
,
ePartners
,
Pivotal
,
SAP
,
Workbooks
,
RunE2E