Model Metrics' Customer Relationship Management Strategies are designed to give you a "complete view" of your organization - its operations, process and how each affects the client experience. The power of designing a CRM strategy that considers your internal operations and your client's experience drives a coordinated, cohesive organizational approach to managing customers and improving productivity, decision-making and sales.

We've found Salesforce.com to be a leader in delivering both the operational alignment and client experience. Their "On-Demand" technology enables faster implementation, easier learning by staff, and a flexibility not easily found with other CRM systems. With Salesforce.com technology and our experienced consultants you are better served by more productive and motivated employees engaged in a system that's more ergonomic to the way they work and how the customer buys. The key benefits of Model Metrics' "full life cycle of CRM success" include: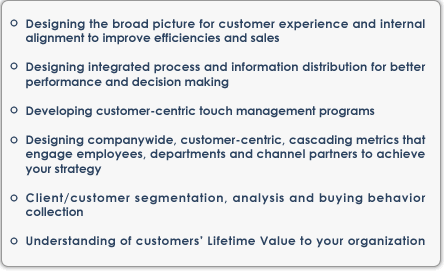 We help you from beginning to end and do all the heavy lifting so you can continue to concentrate on your business instead of worrying about implementation of CRM.
Compare Model Metrics to:
Maximizer
,
Entellium
,
Oncontact
,
Aplicor
,
Soffront
,
ADAPT Software
,
Avidian
,
Epicor
,
InsideSales.com
,
Kana
,
Microsoft
,
NetSuite
,
Oracle
,
Parature
,
RightNow
,
Sage
,
Salesboom
,
Salesforce.com
,
SalesLogix
,
Saratoga Systems
,
Siebel
,
SugarCRM
,
Surado
,
ACCPAC
,
ACT!
,
amdocs
,
Appshore
,
Aprimo
,
Ardexus
,
Astea
,
Aurum
,
Chordiant
,
Commence CRM
,
CSG Systems
,
Dendrite
,
eGain
,
Everest
,
Infor
,
JD Edwards
,
LeGrand
,
NetOffice
,
Peoplesoft
,
SalesJunction.com
,
Salesnet
,
Visitar
,
Infusion Software
,
Dataforce CRM
,
BrainSell
,
Zoho
,
LeadMaster
,
PipelineDeals
,
Tour de Force
,
VanillaSoft
,
Balgord Software Solutions
,
Landslide
,
C2CRM
,
CRMG
,
24SevenOffice
,
CNP
,
PhaseWare
,
Enterprise Wizard
,
Revelation
,
Exact Software
,
Majestic
,
Epicor
,
Goldmine
,
Consona CRM
,
TechExcel
,
Commence
,
ePartners
,
Stay-In-Front
,
Pivotal
,
SAP
,
Workbooks
,
RunE2E