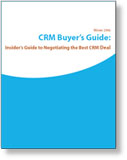 Buying CRM Software in the Next 3 to 6 months?

Our free CRM Buying Guide: "Insider's Guide to Getting the Best CRM Software Deal" provides tips & how-to so you can get the best deal possible from any CRM software vendor.
With tips from real CRM Insiders, you'll learn:
How to identify and avoid the hidden cost of CRM software purchase.
What items vendors hope you overlook when negotiating.
When is the best time to buy CRM software.
How participating as a reference can save you thousands.
Why doing an RFP will save you money.
And much more.
Please register below for immediate access.